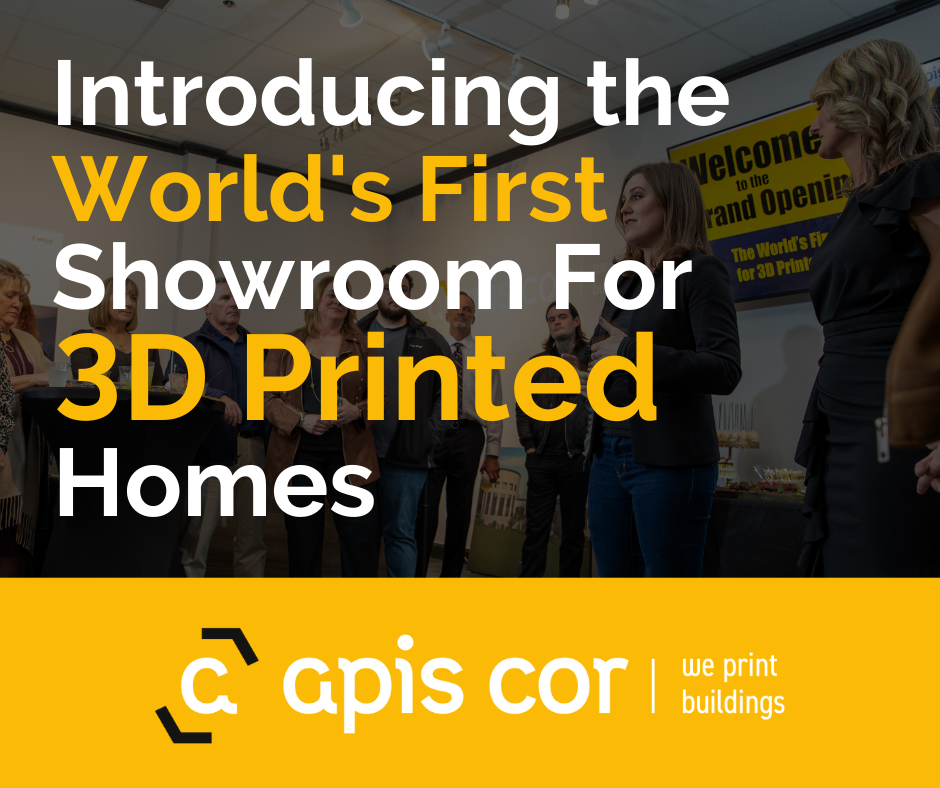 Meet Frank!
The desire to be able to physically view and interact with our legendary 3D printer "Frank" and see some printed wall samples have been expressed to us by our followers for several years.
We received all of your suggestions, and we're thrilled to introduce the establishment of the World's First Showroom for 3D Printed Homes.
Welcome to Apis Cor's showroom, located on Avenue Viera in Melbourne, Florida!
We are changing how we think about the building sector due to our 3D Printer "Frank." Apis Cor's printing technology, which constructs your home for you, allows you to build your house faster than traditional construction.
Unique robotics solution with full mobility and transportability – this is how only Apis Cor technology today accomplishes the most efficient, scalable, and cost-effective 3D printing construction process currently available on the market.
Frank is a self-sufficient printer who, in essence, will print your home in the future!
The Showroom Elements
Our showroom is equipped with the most consistent and best quality 3D printed walls available in the industry! You will be able to see and touch an actual wall sample with several different finishes applied, including paint, stucco, and several other textures and patterns. As well as to see how MEP is incorporated into the 3D printed wall
The walls are constructed of a concrete-like mortar comprised of Portland cement, fine and small particle-sized sand, and a proprietary blend of additives that make the mortar "endowed" and long-lasting.
The "Cake Wall" in our showroom shows you more about the structural and engineering features that make up our exclusive technology in this section. See how the reinforcing, plumbing, and electrical systems are incorporated into our 3D printed walls by watching the video.
Apis Cor has shown the technology and made significant contributions to its advancement through several substantial projects, including:
3D printing the "Largest 3D Printed Building on Earth," which was recognized by the Guinness Book of World Records.
Winner of the NASA 3D Printed Mars Habitat Challenge's top honors in several categories.
Being the first commercially approved 3D printed structure in Boca Chica, Texas, in the United States.
Printing permission for a residential home in Branson, Missouri, United States.
We Need Your Help!
At Apis Cor, our goal is to expand, and we will use the campaign to enable the following activities:
Product Improvement and growth of the Apis Cor technology.
Workforce expansion
Building more Franks
Establishing the infrastructure needed to produce 3D print material to meet the growing demand for 3D homes
Collaborating with real estate developers to select final product designs and locations.
Increasing production capacity through the acquisition or lease of manufacturing facilities and company personal property in the form of equipment;
Bringing the Apis Cor products to market; and promoting the Apis Cor products.
Increasing the size of the marketing, manufacturing, administrative, and sales operations departments.
More Questions? We're All Ears!
Feel free to visit our contact page on our website for any questions or concerns! Spread the word to your friends, family, and network about becoming an early shareholder today!